Post-Grad Life: Trials, Triumphs, and Treats
It has been 31 days since I graduated from the University of Missouri. I cannot even wrap my head around all of the changes that I have experienced, so I decided to start this series. I am going to bug my friends to answer some of my questions about post-grad life. Today I am kicking off the series with my own trials, triumphs, and treats. Here goes nothing.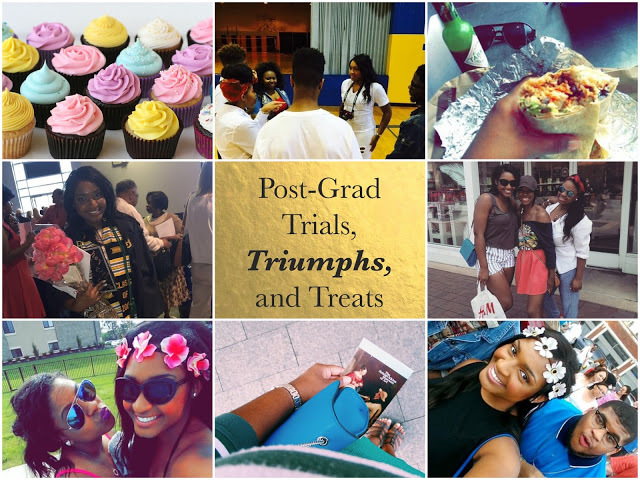 TrialsI blew my graduation money All of my budgeting strength went out of the window once I saw all of my coins. I ended up blowing most of my graduation money, forgetting about my bills which went overdue, and feeling like a complete failure. It has been really hard for the last few weeks, but things are looking up now. My love life has disappeared No bae, no love. Its hard for me to just be on my own. I can't even remember the last time that I was single, so I am taking this time to date myself. I do "me days" frequently, not always by choice. LOL nonetheless, I put this in the trials section because darn it this is hard for me. I want someone who is going to ride for me. That's a different post though. If you want to talk relationships, then leave a comment below. I'm all in!
TriumphsI launched Cupcakes and ConnectionsCupcakes and Connections is the name of my organization. We focus on uniting and empowering minority business owners. Tonight is our kick-off networking mixer. Stop by if you're in Kansas City,
I conquered my bikini fear Yes, yes, yes I bought a bikini and look great in it if I do say so myself. I haven't worn a bikini since high school. I've gained weight, went in depression, lost some self-confidence, and then gained it back. I never thought that I would wear a 2-piece again, but I knew that I wanted to. So the day after graduation I tried on a bikini at Old Navy and fell in love with it. It was scary to just put it on, but once I had it on I knew that I could do it.
TreasuresI built my dresser + book shelf Post-grad life is all about learning and challenging yourself. I never in a million years thought that I would build a 6ft. book shelf or 60 piece dresser. Both projects taught me that I can do more than I thought. It was mentally + physically challenging, but afterwards I felt super confident in myself. Although I placed my love life being non-existent in the trials section, I now know that I don't need a man for every little thing like building + lifting heavier things. I am woman, hear me ROAR.
I am building new friendships with beautiful souls A girl has to have a little fun, right? Of course. I am building new relationships with young professionals who have similar interests and it feels good most days. It's also bittersweet starting over again. I'm from Kansas City, but I feel like a stranger in my hometown sometimes. That's why I am so excited when I make new friends. Sushi dates, live music, and networking mixers make hard workweeks so worth it. [Tweet "List some of you trials, triumphs, and treats of 2015."]
With Sparkle and Spice, Jasmine Diane
Ps. Flower power is in full effect + here is my Sparkle List for the month.