Get'Er Done: December 2014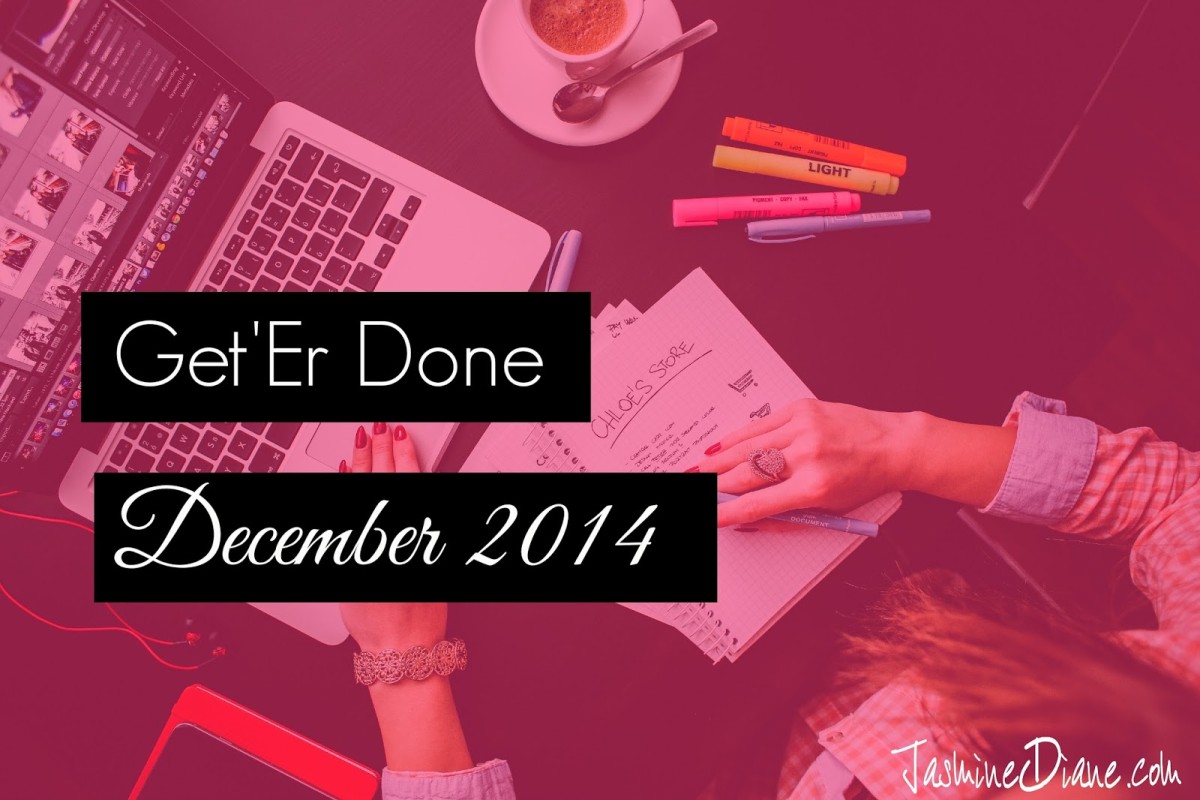 November
absolutely flew by. I thoroughly enjoyed having a week off from school, laughing with friends and family, doing community service, and getting a new job! A ton of grew things happen for me in
November 2014
. I did reach a few of my goals, which you can find here or down below. This month I am pushing myself to go harder with my shop,
this blog,
and my health. My monthly goals keep me accountable, but the greatest thing that inspires me is my vision board. If you mixed my
Vision Board Mixer Recap post
you can check it out
here.
Keep reading to get the scoop on my goals for
December! 
Last Month
Land Seasonal Job- I am super excited and thankful for my NEW job with an amazing company! I felt confident that I got the job, but after not hearing back.
Post to Blog Daily- I decided to post 6 times per week instead of 7 times. I couldn't keep up with 7 posts. Did you enjoy all of my November posts?
Lose 10 Pounds
- I did NOT lose any weight! If anything, I probably gained a few pounds. I just didn't have any motivation to go and once it got cold outside, whatever little motivation I did have went out the window! Below are my goals for this month!
Revamp Shop for 2015! I want to make more money from my shop, so I am going to give it a face lift. I have already started, but I have bigger things in store, so stay tuned! I really feel like I can make it with this platform of mine!
Apply for 5 freelance jobs!
I need to apply for freelance jobs with magazines and other blogs! I am such a slacker guys. I want to increase my income via the work of my hands. I have the soul of an entrepreneur and I can't seem to shake it, so freelance work will in essence be a stepping stone and resume builder for me. I want my brand,
Jasmine Diane
, to be as big as
Karen Civil.
I want the bloggers that I admire and adore to become my colleagues and friends. Oh yeah, I'm going to see
Karen Civil
at this event next week here! I am so excited and of course I will share my experience will you all with an amaze balls blog post!
Drink more water I need more H2o in my system! My skin has been ridiculously dry. In the winter months, I tend to have dry skin much like a lot of folks. I need to invest in thicker lotion. I usually use Suave in the cooler months and switch over to Jergens for the Winter months, but I have yet to run out of suave. Back to the water, I need more of it. I am not a huge fan of water, so I try to add lemon or a green tea packet to my water whenever possible. Do you love drinking water? What is your favorite drink?
Read 3 Novels: I have about 5 new novels on my bed, but I have not touched any of them more than twice. It isn't because they aren't good or because they don't interest me. It's really just because I don't give myself time away from my screens, my phone and computer. This month I plan to change that. I used to read all of the time and I want to get back to that. Smart people read, did you know that? Reading keeps you on your toes. I challenge you to read a new novel this month.
If you have any suggestions for me, then please let me know!Thank you for tuning into this month's goals! Have you checked out my latest
#GirlTalkTuesdays
post?
Ps.  Be sure to connect with me on instagram and twitter! Until next time dolls, toddles!